Designed for all board sports
100% Cork Agglomerate 8 pieces
W41cm x H62,3cm
W15.1" x H24.5"
Why Cork?
Cork is 100% natural, elastic, impermeable, lightweight, biodegradable, reusable and recyclable.
Is the outer bark of the cork oak tree, consists of cells like honeycombs filled with an air-like gas.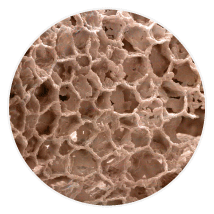 "Cork is one of the world's most versatile materials."
ECOPRO - DRIVEN BY NATURE - eco-friendly grip pads for your surfboard
EcoPro is a company from Portugal that has made it its business to produce the most environmentally friendly tailpads on the market. The cork used is taken from local industrial waste and reprocessed. Cork binds more CO2 when it grows up than the processing releases afterwards. These great ECO Grip pads are finished with the high quality M3 adhesive, so that the traction pads stick to your surfboard for a long time. The pads are pressed from cork granulate in a mould, which results in great durability. The cork pads come from nature and go back into nature after use. The waste is minimal and is decomposed independently by nature. The EcoPro Surf products are convincing all along the line.
What tailpads does EcoPro offer you?
The RETRO Pad is a three-part surfboard grip pad and can be individually glued onto your surfboard.
The Classic Pad is very stable and made completely from one piece.
The Fish Tailpad is specially designed for fish surfboards.
For which water sports can you use the EcoPro Cork Tailpads?
The traction pads can be used on any surfboard for surfing. Whether shortboard, funboard, hybrid small wave boards, minimalibus or longboards, you can use these pads optimally. The Retro Tailpad looks great on your riversurfing board and gives you the support you need for radical turns. You want a little more control on the back foot when SUP surfing? Then stick an Eco Pro pad on your SUP board.
Eco pads are also often used as surf accessories for kitesurfing on kitesurf boards that are suitable for wave riding, so-called Direcionals.